System Audits
Because we design and build material handling systems for the long term, they may eventually show signs of wear. Left undetected, worn system components can become points of failure, causing unanticipated downtime and costing hundreds of thousands of dollars in lost productivity. To prevent this, we offer the services of a Conveyco Certified Support Specialist to inspect and document the condition of our clients' systems, and follow up with a System Audit Report detailing recommendations for corrective measures.
A review of the System Audit Report by Conveyco's System Support Manager with our client includes a discussion of the potential points of failure in the system, the corrective measures that are recommended to prevent any failure, and all associated costs. Upon the client's authorization, we procure the necessary parts and deploy a Certified Technician to perform the work recommended.
Onsite facility consultation

Review of your system's current condition
Identify possible points of failure

Produce a post audit report
Deliverable: Post audit report pricing and components required for a reconditioned system
System Performance Audits
Over time, changes in any client's operation can cause inefficiencies that may negatively affect the performance of the original system design vis-à-vis today's requirements. To course-correct for these eventualities, we offer System Performance Audits. These involve a Conveyco Account Executive and our System Engineers conducting an onsite system consultation, leading to a comprehensive report of the findings. This report identifies:
Onsite review of your operation, touch points, and process by one of our experienced Engineers
Document labor saving opportunities
Investigate alternative uses for underutilized areas of the system
Identify any safety concerns
Discuss your business plans, any changes, and your current system's ability to accommodate them
List training issues that need to be addressed
Deliverable: Post audit report detailing the findings above and their associated ROI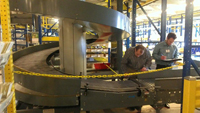 Use our
Contact Us
page to request more information or to enroll in our Systems Audit Programs.