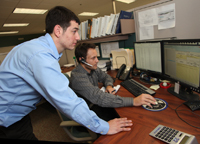 Conveyco, a nationwide integrator of engineered material handling systems, was founded in 1979 with a core value of providing exceptional customer service. ConveyorandParts.com has evolved to become one of the industry's leading resources for facility professionals on the web today. We are continuously adding new products and service offerings to help better service our clients.
Our onsite experience and a real passion for our industry allow our Life Cycle Support Team to better aid our customers. Our dedicated team will work with you to troubleshoot and resolve system issues, answer technical questions, and diligently provide replacement parts for your equipment. Our site offers 65,000+ parts from 40+ manufacturers. With every RFQ we strive to get you the best price out there and provide you with personal customer service.
In addition to parts and customer service the Life Cycle Support Team offers a wide variety of onsite services such as:
Life Cycle Support Team
Conveyco System Maintenance Manual
Spare Parts Plan
System Performance Audits
System Rehabs / Rebuilds
Onsite Preventative Maintenance
High Speed Sorter Rebuilds
24~7 Life Cycle Support HOTLINE
At Conveyco, we believe we have a responsibility to our clients that goes beyond the integrated material handling systems we design and build for them, an ongoing commitment that supports our mission to create value and make a difference by helping them to maximize the returns on their investments.